I'm thrilled to share that Book Club Central—a new ALA initiative for book clubs and their readers—has officially launched and is ready to share with your libraries and patrons.
Book Club Central is an online one-stop-shop for book clubs, featuring everything from author interviews to book recommendations and reviews, as well as discussion questions and tips about how to start and moderate a book club.
I had the pleasure of introducing Honorary Chair Sarah Jessica Parker at the Book Club Central launch event during ALA's Annual Conference in Chicago. In addition to being an award-winning film and television actor, Sarah Jessica Parker is a lifelong reader and a dedicated advocate for libraries, and we're all very excited to work with her on this initiative. Her first Book Club Central pick—No One Is Coming to Save Us by Stephanie Powell Watts—has already been met with great enthusiasm from library professionals and members of the public alike.
The Book Club Central team is grateful for the support of our Sponsoring Partners: Booklist, the book review magazine of the ALA; United for Libraries, a division of the ALA; and Libraries Transform, the ALA's public awareness campaign. Our Corporate Platinum Partner is Penguin Random House, and other Corporate Partners include NoveList and OverDrive.
I hope that Book Club Central will serve as a valuable tool for your libraries and communities, and that you will join the ALA in spreading the word about this exciting new resource. Adding a link to bookclubcentral.org to your library website is a great way to help book lovers connect with our tools and content; you can also follow Book Club Central on Facebook, Twitter and Instagram to join the conversation on social media.
Finally, you can always keep an eye on the Book Club Central website for new tips, recommendations and book club stories. We'll be also be sharing more content from the Book Club Central Launch—including our live book group discussion with Sarah Jessica Parker, Stephanie Powell Watts and Booklist's Donna Seaman.
Thank you for being part of the global Book Club Central community! If you have any questions or comments about Book Club Central, please feel free to contact bcc@ala.org at any time.
Sincerely,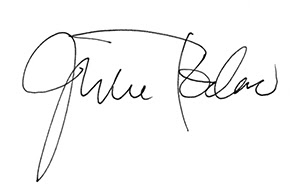 Julie Todaro
ALA Immediate Past President